Automation, Robotics and Systems
From conception, design, development, commissioning to assistance and maintenance.
---
EST has the capacity to offer, through its Automation, Robotics and Systems Department, modern and technologically advanced solutions, adapted to the specific needs of each industrial process and customer.
We are systems integrators, offering solutions from supervision and automation of complete production lines to large machines, integrating in all our solutions, industrial equipment such as automata, robots, scales, instrumentation, and own equipment.
Founded in a multidisciplinary and competent team, with more than three decades of experience, we provide services in Portugal or anywhere in the world:
Automation – Conception Studies
Design of customised projects
Development of software for Automata
Development of computer applications for industry
Commissioning of machinery and installations "worldwide"
Technical Support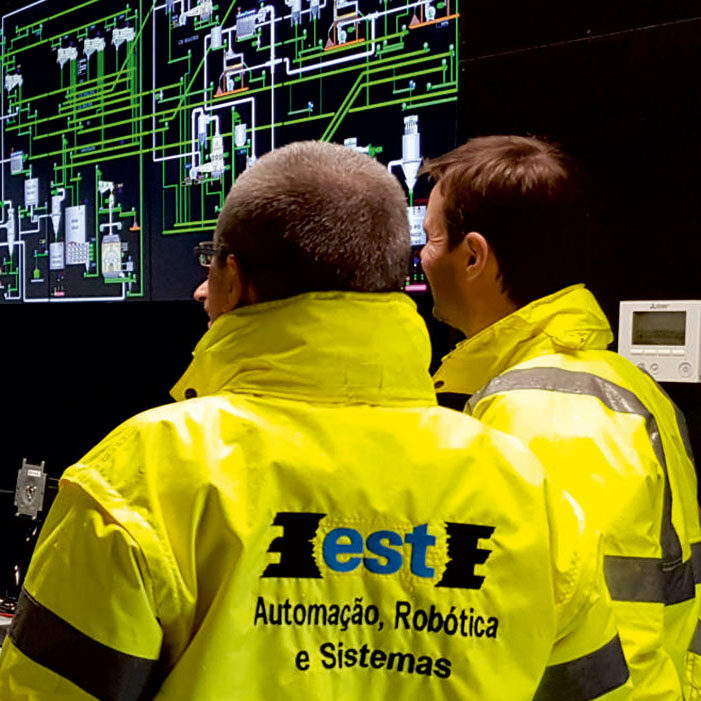 Kuka
Automata
Telemecanique
Siemens
SAIA
Allen - Bradley
Omron
Mitsubishi
Schneider Electric
Robots
Robots KUKA
Robots ABB
Controladores KRC4, S4, S4C, IRC
RobotStudio, WorkVisual, Sym Layout
Ferramentas / Grippers
Equipamentos periféricos
Process controllers
Euroterm
Shimaden
Gefran
Field networks
Ethernet/IP
Profinet
CANopen
ModBus TCP/IP
Profibus
Interbus
DH+, Device NET (Allen & Bradlley)
FipWay (Telemecanique)
Omron
Industrial Weighing
Rice Lake
Bilanciai
Telemecanique
Sartorius
Networks/Ethernet/Wifi
Telemecanique
Moxa
HP
Alcatel
Hirschman
Cisco
Siemens
Phoenix Contact
Allen - Bradley
SCADA / HMI
Vijeo Citect
RSView
Wonderware
Protool
Magelis
WinCC
Beijer
Vijeo Look
ESA
Advantech
Schneider Electric
Movicon
Citect SCADA
Programming and Software
C, C++, C#
Visual Basic
.NET
MySQL
SQL Server
Common Vision Blox
Sherlock
FrameWork DVT
Labeling/Coding
SATO
Datalogic
Zebra
TSC
Motorola